Description
Who we are:
Evelina London Children's Healthcare is part of Guy's and St Thomas' NHS Foundation Trust.
We are the second largest provider of children's services in London.
What we do:
We care for children and young people from across South London and South East England.
We offer a unique range of services from antenatal diagnosis through to childhood, into adolescence and on into adult life.
Children's services at Evelina London are mainly located in our state-of-the-art building alongside St Thomas' Hospital, but we also provide care to young patients in the community in Lambeth and Southwark.
Evelina London Children's Healthcare is part of Guy's and St Thomas' NHS Foundation Trust.
Based in a stunning purpose-built building at St Thomas', our hospital includes:
151 inpatient beds, including 20 intensive care beds
46-cot neonatal unit
5 operating theatres, plus 1 cardiac theatre in East Wing, St Thomas'
a full children's imaging service with MRI scanner, x-ray and ultrasound
a kidney dialysis unit
an outpatients department and a medical day care unit
a hospital school.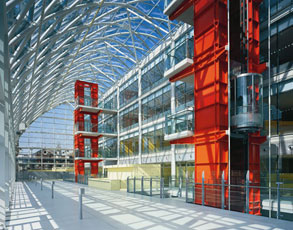 A hospital that does not feel like a hospital
With themed floors, a conservatory, rooms with views, sunlight and fresh air, Evelina London Children's Hospital was designed around the needs of children and their families.  
It's a seven-storey glass-fronted building, featuring a four-storey conservatory and dramatic views of Lambeth Palace and Archbishop's Park.
Inpatients are on the upper levels of the building, so children staying in hospital enjoy the best views. They also overlook the conservatory, the social heart of the building, housing a gallery and performance space and the hospital school.
Finding your way around


The building is themed around the natural world, from the sea at ground level to the sky at the top. It has visual symbols (see above) to make getting around easier and themed artwork on the floor of each level.  
Information of the hospitals wards
Information for parents and visitors